It's time for another HIIT (High Intensity Interval Training) session my friends, For those of you who are following the Bikini POW Challenge, this is your second workout of week 4 so make it count & push extra hard!
This HIIT is a plank marathon, hence the name: PLANKATHON! So get ready to get your heart rate up while tightening your core full blast!
Timer Settings
Set your interval timer to 12 rounds of 30 seconds (exercise) : 10 seconds (rest) intervals. Once you complete your first round, repeat one more time, taking a short break in between the two rounds. In case you don't have your own interval timer, I have set one up online for this workout: Plankathon HIIT Online Interval Timer.
Workout Breakdown
Make sure you warm-up properly before doing this intensive workout (5-10 minutes), once you complete one full round of the following exercises (see order and breakdown below infographic), take a short break (about a minute) and repeat one more time for a total of 2 sets! Once your done, cool-down and stretch out those muscles, they will deserve it! You'll be in fat burning mode for hours after finishing your workout, enjoy it!
Exercise Breakdown
1. Burpee to Plank Jacks
Perform 1 burpee followed by 3 plank jacks (the pushup is optional)
*note: this video is demonstrating a ratio of 1:5
2. Cross Knee Tuck
3. Side-to-side hop + Touch-down
*note: touch-down to the side of the floor (outer side of your foot) each time you land
4. Plank + Alternating Leg Lift
5. Speed Jog
6. Side Plank Crunch (R)
7. Toe-Touch Jacks
8. Side Plank Crunch (L)
9. Invisible Jump Rope
*note: you can do this exercise with or without a jump rope, have fun and mix it up with 1 leg jumps, cross jumps, etc.
10. Plank Climber
*note: start by lowering your right arm to the floor during 1st set/left arm during 2nd set
11. Spiderman Plank
12. Rotating Plank
MFS Suggests…
---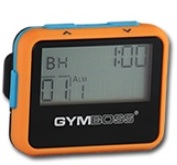 Gymboss Interval Timer – NEW DESIGN -
Better Workout. Better Results.
The GYMBOSS is a small, easy to use, repeating interval timer. This multi-use timer has many versatile functions that make it beneficial to virtually any type of exercise program. Start working out like a pro and reaching your goals TODAY!
Get your Gymboss in the color of your choice HERE